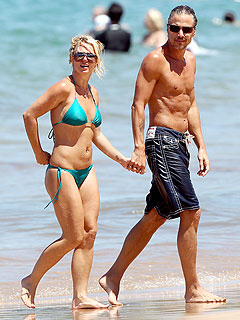 The following italicized article is from www.people.com:
Nope, Britney Spears isn't walking down the aisle again – at least not anytime soon.

Responding to an online report that boyfriend Jason Trawick recently popped the question during their Hawaiian getaway, the pop star's Web site warns fans with a "BS ALERT!"

While the two, who've been dating for more than one year, aren't engaged yet, they did have (someone else's) marriage in mind during their island vacation.

Spears, 28, and Trawick, 38, toured a wedding chapel at a Maui resort and watched a wedding from their hotel balcony.

As for their romantic future, says a source, "They're really taking things day by day and really enjoying their time."
Source: People