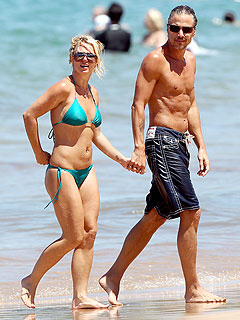 The following italicized article is from www.people.com:
What better way to take a break from work than a Hawaiian vacation?

Britney Spears, who's been busy working on new music and taping Glee, "was very excited to go on a vacation with Jason [Trawick]," a source tells PEOPLE. Staying in an luxury suite at a stunning, oceanfront resort on the island's Wailea coast, the couple – between spa treatments and gourmet meals – hit the beach.

"Britney and Jason seem completely in love and happy," says an onlooker. "Britney has not stopped smiling since she arrived in Maui, and she seems to have the best time with Jason.

"Even in the ocean, they kept smooching. ... Britney also looks fabulous in her different bikinis, and Jason is in great shape as well."

While Spears's sons Preston, 4, and Jayden, 3, stayed in L.A. with grandparents Jamie and Lynne, the boys did get some surf and sand fun of their own in Santa Barbara.

"Preston and Jayden had a blast on the beach. Jamie and Lynne seemed to very much enjoy spending time with the boys, and together they built sand castles and played tag," says an onlooker. "The boys looked so cute and were beyond excited about the beach. Jamie and Lynne looked very happy together as well."

Adds a source, "Britney told Preston and Jayden that she was going to the beach and promised the boys that they would get to go also. The boys had the best time in Santa Barbara with their grandparents."
Source: People